Welcome to L. A: (Leonard & Anjani)
Recently Ellen – a dear friend in my youth & early twendom – living now in Berlin, called me by internet-phone (skype). – It's dangerious if she & me join by telephone – cos usually it takes at least an hour or two of our both most precious time - we cling to the phone like hypnotized. – I used to think 'it's her fault', because she just can't stop talking – but last week a friend told me, that the only one of his pals, who talks with him 'that' long on telephone is 'me' – hmm – so my fault maybe too & so en effet it's an obsessive desaster of multinion words we're urged to share– but it's nice for a while to open the channels of communication & if we feel it's gettin' tedious we close up with nice apologies like 'aah – 'I have to get up in 5 hours' –'there are burglars in the house & I have to chase them away' etc.
So in this recent telephone conversation she mentioned a song called 'Blue Alert' & mentioned the name Anjani – she had been recently on the Leonardcohen site - Hmm? - I'd never had heard consciously of a singer called Anjani.
Hours later as our conversations slowly had ceased until we gave up & stopped our skyping with a late 'good night`wish I searched curiously for Anjani in google & Cohens site.
First I found www.anjani-music.com
By a link from there I found www.myspace.com.anjanimusic where you can listen to 4 of these songs with lyrics by Leonard Cohen materials, splendidly interpreted by her to something new - she's takin' the crumbs she finds in the labyrinths of his scattered glimpses of scribbled down fragments of poetry & metamorphoses them to something virginly new with her jazzy sensible voice , so
turns those crumbs into delicious loafs of crunchy bred.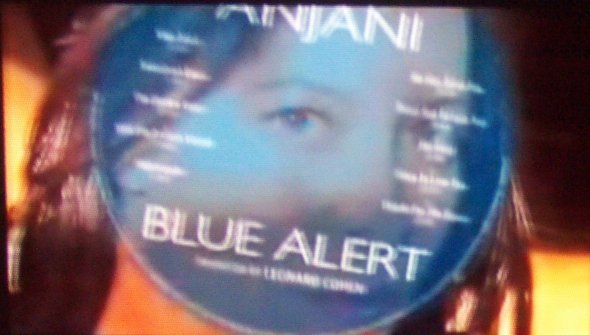 Excerpt from Anjanis site about the making of 'Blue Alert`':


Hearing Anjani's soulful and evocative interpretation of "Blue Alert," Cohen knew that something unusual had happened. "She was singing from a place that few singers ever get to sing from," he recalls, "so that encouraged me to let her rummage through a notebook for lyrics that interested her."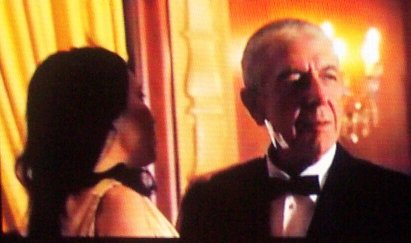 I hope you meanwhile listened to these 4 songs – if not – do it later I'll put that link to her songs again on the end of this entry..
When I first listened to these selected songs on her site, Anjanis voice gave me the creepers down my spine – It remembered me to Norah Jones delicate style of singing, but Anjanis voice & message in her voice is more intimate, more sensible, so closer to my soul. – It's like comparing Bob Dylan to Leonard Cohen – Bob is more popular, but Leonard's songs were always closer to my soul. – They're more insidious & so corollary not noticed by the extroverted big herd. - When I heard "Thanks for the Dance" it touched a string in my soul that made me cry – I remember a song of Leonard Cohen once that also gave me tears on my cheek: "Night comes on" – see my once entry about it
& now Leonard & Anjani are spiritually united, a perfect harmonious couple of most gifted artists supplementing each other.
Ah - I like this foto of Anjani & Leonard together best!
– Leonard is now 71 – I have all his records & CD's , since he was one of my favourite music & poetry heroes since youth – his voice on his last CD's ist getting lower & lower, the songs more melancholic – his virtues of his enchanting voice power are slowly fading, but not yet fainting – I liked his last release "Dear Heather" much more than the one before - the songs got more appeal again - may his muse Anjani raises his virtues again - (& 71 years is not that old - Russia was governed at times by men older than 80 (not to forget my grandma who's now 105 years old, but she's not ruling a country anyway))
& just in this state Anjani comes like a humming bird out of Leonards slightly tired inspiration & carries on on light fairy wings, the treasures that are still buried in the dungeons of his mind.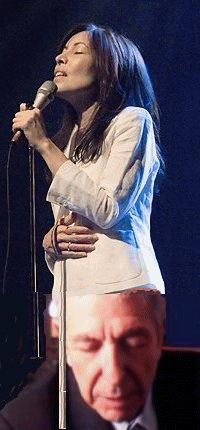 I hope they'll continue this blooming cooperation.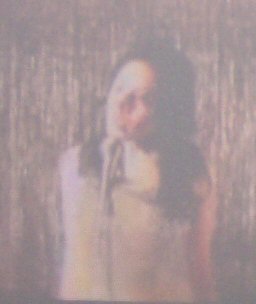 Apropos crying – here Anjani in an interview

When was the last time you cried?
Leonard talked me into seeing King Kong which I had no desire to see. He kept insisting it had to be good because it's the greatest archetype and so what if we've all heard the story before—a good one never gets old, etc. There was nothing else on and I relented and was completely taken by surprise. Naomi Watts was wonderful, but KK was an absolute heartbreaker. Thank God we were in a hotel room so nobody saw me bawling.

..remembers me to that I had till now also no desire to see this King Kong film, while my friend Ricardo also urged me to go see it – hmm – but if Anjani cries in that film it may be worth to go see it..
As this entry is a tribute to the wonderful voice of Anjani – I already ordered her CD "Blue Alert" via Amazon (needs about 2 weeks, cos it comes from the USA) – I'd like to recommend to you to go in Leonard Cohen's site & watch on the menu 'Anjani' the videos about 'Blue Alert' & the making of blue alert - & if by then you're not convinced to get that CD, you just don't have my excellent taste.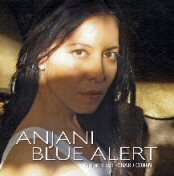 Here an excerpt from L.C. site about Anjani:

ANJANI BIOGRAPHY
"Anjani has always been known as a great singer, a musician's singer," says Leonard Cohen, the musical/literary legend who co-wrote and produced Anjani's Blue Alert. "She's known for this impeccable sense of tone and the ability to stack vocals one on top of the other, but this voice that she was showing here was a completely different voice that had moved somehow from the throat to the heart."
"I never knew we were making a record," Anjani confesses. "I just thought I'd make a demo for Leonard to put his vocals on. " But Blue Alert was patiently waiting in the ether for their inspired collaboration. It began with some handwritten lines [there's perfume burning in the air/bits of beauty everywhere] which Anjani happened to notice on Cohen's desk. This was the first draft of "Blue Alert," which Cohen intended to record himself. Surprising herself, Anjani asked, "Can I have a crack at this?" He replied, "You can have it for a minute or two, and then you have to return it."
Anjani made a quick dash to the studio to set down a track for Cohen's new poem, and she presented it to him wrapped in a disarming caveat. "Leonard," she said, "I don't know if you'll like a jazz approach…but check this out."
Hearing Anjani's soulful and evocative interpretation of "Blue Alert," Cohen knew that something unusual had happened. "She was singing from a place that few singers ever get to sing from," he recalls, "so that encouraged me to let her rummage through a notebook for lyrics that interested her."
For Anjani, being given access to the works and the collaborative energies of a literary master opened a floodgate of creativity. She felt herself especially drawn to "As the Mist Leaves No Scar," a poem in "Stranger Music," Leonard's 1993 collection of poems and lyrics, which she transformed into "The Mist," conjuring a haunting archetypal score for the song. "I don't know where she found that melody or that approach, " Cohen wondered, "but it is as though I'd never heard that lyric before or, more precis ely, it is where I'd always heard it somewhere but had never been able to locate."
An album was taking shape, but Anjani needed more material. With Cohen's permission she ransacked boxes of his journals, unpublished works and unfinished drafts, sometimes seizing on a mere two or three lines or a verse that appealed to her.
The song, "Thanks for the Dance," for instance, began as a single found line, which Anjani and Leonard fashioned into a new complete work. "That's how it moved from one song to another [with] Anjani finding scraps of lyrics and pressing me to finish them," Cohen explains.
One of those high points is "Innermost Door," which Cohen describes as "…something irreversible, but something inevitable. 'Saying goodbye/at the innermost door,' I suppose that has a certain finality, but a certain appropriateness too. I don't know what it means," Cohen confesses. "[but] Anjani brings the lyric to life."
When it came time to record Blue Alert, Anjani and Leonard opted to work at the studio of Ed Sanders, who recorded the album on a vintage Telefunken analog tape recorder spinning a two- inch seatbelt of tape. The warm, rich sound they achieved captures the whispered subtleties of Anjani's vocal cadences and the intimate qualities of her music. Anjani states, "I love the sound of analog recording. I'm an old- fashioned girl and I like to see the tape go round and round."
That "old- fashioned girl" was born in Honolulu, Hawaii, and trained in guitar, piano and voice before attending Berklee College of Music. Later moving to Manhattan, Anjani played the jazz club circuit, drawing inspiration from pianists ranging from populist Vince Guaraldi to jazz mystic Bill Evans. Anjani was introduced to Leonard Cohen in 1984, by producer John Lissauer (who plays baritone sax on the title track, and clarinet and keyboards on "Thanks For The Dance"). Her haunting background vocals are heard on Cohen's original recording of his signature opus, "Hallelujah. " Later that year, Anjani joined Cohen's Various Positions World Tour as a keyboardist/vocalist, and she sang on subsequent Leonard Cohen albums including I'm Your Man (1988), The Future (1992), and Dear Heather (2004).
In 2000, Anjani released a self-titled independent CD, blending jazz, folk and Hawaiian influences, including a duet with famed Hawaiian musician Henry Kapono. She followed her debut a year later with The Sacred Names, an inspirational meditation on the Hebrew, Aramaic and Greek names of God.
"She seems to be able to channel some kind of spirit of place," Leonard Cohen says of his colleague. "Generally, people want to be generous, but they go over the top or they give too much. But to be able to be generous in this manner of real generosity, which is not to overwhelm, but to merely satisfy and nourish: that is something very rare. She has this capacity -- melody after melody -- to hit the mark. Not go beyond it and not fall short… just perfect."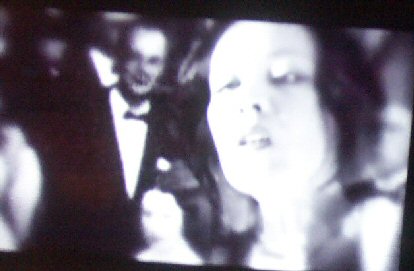 & here an article by James Adams of Toronto I found somewhere in the web:

"Cohen's muse -- or is it the other way around?"
by James Adams
Leonard Cohen has long had the reputation of being a ladies' man. Yet for all the "conquests" of his 71 years, the apparent richness of his social life and the women he has celebrated in song and poetry, he's been a solitary figure, too -- "the infamous lover who lives alone," as one of his biographers has described him, the Jewish boulevardier with a taste for Zen monasticism.
So it's been something of a surprise in recent months to see the creator of "Suzanne" and "Hey, That's No Way to Say Goodbye" associating himself so publicly with Anjani Thomas, the fortysomething singer-songwriter whose latest recording he both produced and co-wrote.
Released last week , Blue Alert sports Cohen's name on the front and the back of its jewel case. That's him in the pictures on pages 8, 9 and 12 of the CD booklet, and it's his daughter, Lorca, 32, who shot all the photographs. In January, when Cohen was inducted into the Canadian Songwriters Hall of Fame, Thomas accompanied him to the televised ceremony in Toronto and he, in turn, helped her do advance promotion for the 10 songs on Blue Alert.
They're going to be in Toronto again tomorrow, this time for an appearance at the Bloor-and-Bay flagship store of Indigo Books and Music. The main draw, of course, will be Cohen, who's just released Book of Longing, his first volume of new poems in more than 20 years. But Anjani (her preferred professional moniker) will be performing five songs for the expected crush -- an aural appetizer for the opening slot she's expected to have when Cohen embarks on a concert tour later this year or early next.
Thomas is hardly a showbiz neophyte, however, nor is Cohen her Svengali. Half-Hawaiian, half-Okinawan, the Honolulu native has two previous solo records to her credit. In 1984 she met Cohen and subsequently provided background vocals on several of his recordings and later performed with his touring band as keyboardist and singer. Moreover, she's the ex-wife of noted Hollywood entertainment lawyer, Robert Kory, who also happens to represent Cohen, as well as a client of Macklam/Feldman Management, the Vancouver agency that took over Cohen's troubled affairs in late 2004 after the singer-songwriter acrimoniously split from Kelley Lynch, his manager of more than 20 years.
You'd think Thomas might feel a touch, well . . . uneasy at being so much under or at least beside Cohen's shadow. All the lyrics on Blue Alert are Cohen's and, on many occasions, you anticipate Cohen's rumbly monotone to join her to traverse the songs' waltzy melodies. But, as Thomas quietly insisted during a recent interview, "I don't think of it as being the shadow of Leonard, but the grace of Leonard. This is certainly the most fulfilling piece of music I've done. If anything, Leonard is an inspiration. In some ways, this marks the beginning of my career. In terms of personal growth, musical growth, it's the sound of where I want to be. I feel like I'm finally inhabiting this body and using my voice to the best of its capabilities."
Blue Alert is a decidedly quiet and sparse recording, mostly just Thomas's voice and keyboards, with occasional, discrete flourishes of percussion, reeds and strings.
The collaboration, she said, "arose in an organic way." One day in 2004 she spotted the lyrics to what would become Blue Alert at Cohen's home in Los Angeles (They live just a few blocks from each other: "He's the guy who makes my breakfast; I sew the buttons on his shirt"), and "I just thought I'd do a treatment of it and see if he'd do it." Cohen liked what she did, but thought she should sing it. Thomas proceeded to rummage through other Cohen fragments and worked up melodies for three more lyrics -- "The Mist," "Nightingale" and "Half the Perfect World." At that point, they decided the collaboration should begin in earnest, the focus being the preparation of a full-length album. "Yes, she pressed me into hard labour," Cohen said with a chuckle.
"Now I won't say the album wrote itself," Cohen added. "But the freedom Anjani gave me to write for her and not for myself was great. The songs came almost fully formed. And the fact I knew I wasn't singing it did have an impact on the relative speed of the process. I was able to work with a kind of freedom I don't have characteristically."
Cohen acknowledged that Blue Alert is a byproduct of sorts of his increasing intimacy with Thomas. "It grew out of our relationship, out of the predicament I found myself in," he said -- a reference to the much-publicized "financial crisis" in which he found himself in late 2004 when he was awash in litigation and near insolvency and forced to spend long stretches of time in Los Angeles, meeting with lawyers. "When something works out, you feel good. Because most things don't. This had a particular grace to it.
"We are neighbours in the deepest sense."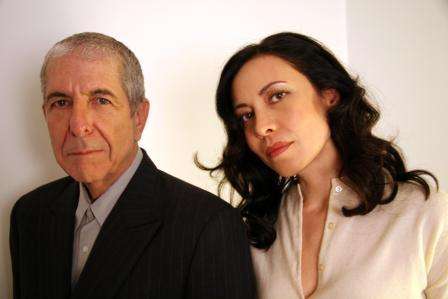 www.myspace.com/anjanimusic



Copyright declaration: All pictures included in this entry are taken from Anjani's & Leonard cohens sites, who of course have the copyright. The animated picture is a collage I made with an animation program of two of their pictures. - Few of the pictures I got by fotographing my screen with a digicam, while the Anjani videos on Leonard's site was playing..

0 comments so far previous - next